100g Grade AAA Organic Gourmet Vanilla Beans Product Of PNG 16-18cm Each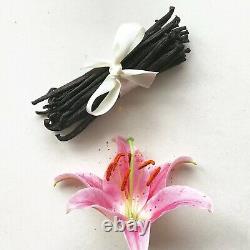 Optimum quality organic vanilla beans Gourmet Grade AAA. Chocolate brown, moist and very fragrant. Free of any pesticides, fertiliser or additives. Product of Papua New Guinea. Cultivated and cured in Wewak, the capital of the East Sepik province of Papua New Guinea on the northern coast of the island, each vanilla bean is hand-selected for its freshness and rich fragrance.
The full, sweet, creamy and mellow flavor with velvety after-tones is long-lasting and found in both the bean and the seeds. The vanilla seeds add gourmet visual delight to a variety of applications, from cooking to baking as well as cold and frozen desserts.
If your vanilla arrives in vacuum sealed packaging, we suggest that you do not open the package until usage. We do recommend that you remove the beans from the package after approximately 6 months. Keep in mind that you might see a brown liquid throughout the vacuum sealed packaging.
Do not be concerned for this liquid is simply oil squeezed from the vanilla beans during the vacuum sealing process. Storage - Wrap your vanilla beans in either wax paper or plastic wrap and store in an airtight glass or Tupperware container. Be sure to squeeze out as much air as possible from the container to prevent the vanilla beans from drying out. Location - You should never store your vanilla beans in the refrigerator. We recommend storing your airtight container in a cool, dark place such as a pantry or basement.
Airing Vanilla beans should be aired regularly. Simply remove the beans from the container every few weeks to circulate the air for approximately 10-15 minutes. Life Span Vanilla beans that have been stored correctly in ideal conditions can last upwards to two years.
Is committed to ethical and sustainable sourcing of Vanilla Beans. We have seen firsthand the impact of natural weather and traditional curing methods on this precious product. No pesticides, no fertiliser, no additives have been used during growing and curing of our vanilla beans. Our approach is pure organic practices that strive to cycle resources, promote ecological balance, and conserve biodiversity. We have witnessed the lives of the families who grow it and our aim is to support them.
Vanilla beans you are with us in empowering local growers in Papua New Guinea. You are with us in our mission to provide everyone with a more sustainable and ethical product. Join us in our journey and be the change you want to see in the world. The item "100g Grade AAA Organic Gourmet Vanilla Beans Product Of PNG 16-18cm Each" is in sale since Monday, November 19, 2018. This item is in the category "Food & Drinks\Other".
The seller is "sosoandco" and is located in North Ryde, NSW. This item can be shipped worldwide.
Country/Region of Manufacture: Papua New Guinea
Weight/Volume: 100g
Food Specifications: Organic
Food Aisle: Pantry
Brand: Unbranded

---