5 Near Gourmet Grade A/B Bourbon Type Vanilla Beans from Papua New Guinea 67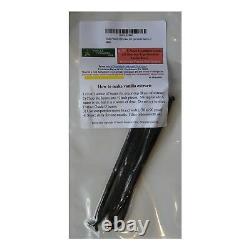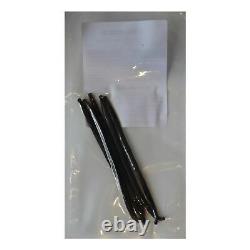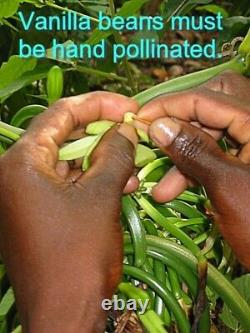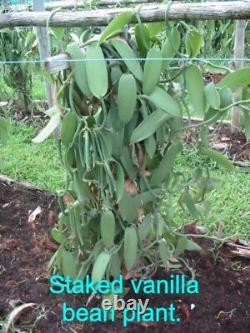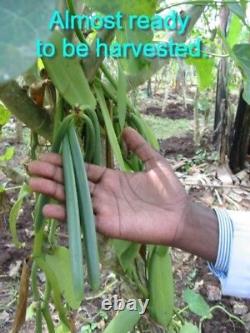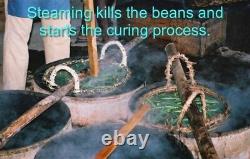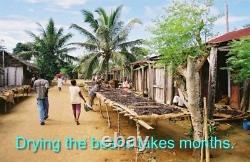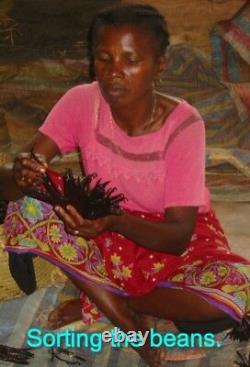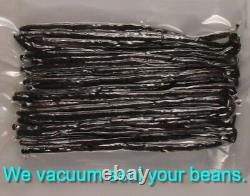 These are Vanilla Products USA brand vanilla beans. Extract Grade B beans should be used for making vanilla extract. Prime Gourmet Grade A vanilla beans can be used for making vanilla extract or for cooking. Bourbon beans are the flavor that you would find in supermarket vanilla extract. Tahitian vanilla beans add a sweet, floral note. In the vanilla bean industry, some terms are used interchangeably. For instance: Tahitian beans = Tahitensis beans Planifolia beans = Bourbon beans (The term "Madagascar beans" should only refer to Bourbon beans grown in Madagascar) Extrac t Grade = Grade B Prime = Gourmet = Grade A Grade A/B = Near Gourmet The term "premium" does NOT mean Grade A. Our beans are traditionally cured over several months to ensure that the full flavor of the vanilla bean is developed. We do not sell quick cured vanilla beans where the beans are cured in 7 to 10 days. These vanilla beans are triple inspected. The first inspection takes place during packing and is for smell, appearance, and mold. The next inspection takes place during vacuum sealing and is for mold and appearance. Extract grade beans are for making vanilla extract. Gourmet vanilla beans can be used to make vanilla extract or desserts like creme brulee and vanilla ice cream.
They can also be used in exotic main courses like Vanilla Scallops on a Skewer or Turbot with Vanilla, Asparagus Tips, and Chicken Cocoa Grue Sauce. Some facts about vanilla beans. Bourbon refers to the formerly named Bourbon Islands (now Reunion) off of Madagascar. Bourbon alcohol is not used in vanilla beans.
Vanilla beans are the second most labor intensive spice after saffron. Vanilla beans must be hand pollinated outside of Mexico because the pollinator, the Melipona bee, cannot survive outside of Mexico.
When the vanilla orchid blooms, it must be pollinated with 24 hours or else the boom dies and no vanilla pod is produced for that bloom. Vanilla is an orchid, and the beans are the fruit of the orchid. It is the only orchid fruit that we eat. There are over 200 organic compounds in vanilla.
Artificial vanilla (vanillin) cannot capture the complexity of natural vanilla. The United States consumes roughly half of all vanilla beans produced in the world. Storage: Triple wrap in zip lock freezer bags immediately upon receipt. Do not freeze or refrigerate them refrigerators are usually frost free, which means they are very dry. Since moisture can still permeate plastic, extended storage in a refrigerator can dry out vanilla beans. Short term freezing in transit is ok.
Store in a cool, dark place. Homemade Vanilla Extract 1 Use one ounce of beans for every 8 ounces of liquid extract that you want to make. 2 Chop the beans into 1/2 inch pieces. Slicing is OK, but it is a waste of time and can be very difficult, if not dangerous, with dry extract grade beans. 3 Use inexpensive name brand Vodka 70 to 90 proof (35 to 45% alcohol).
4 Shake daily for one month. When making vanilla extract, you should go by weight, not number of beans, as there can be anywhere from 70 to 250 beans per pound, depending upon the length and quality.
You can try making extract from Madagascar or Tahitian vanilla beans, and you can use extract grade or prime gourmet grade beans. You may want to filter your finished product. There is no harm in leaving the beans in.
By law, commercial producers of vanilla extract must use roughly a pound of beans for every gallon of extract they produce (one ounce of beans for eight ounces of extract). Most commercial vanilla extract comes sweetened to help cut the alcohol smell, but it is not needed.
You can do the same by adding some corn syrup or sugar water - about 5% by volume. How do you know when the extract is done? Smell is one way, another way is by the color - it should be a nice deep amber color. Just like tea bags and coffee grinds, vanilla beans only have so much flavor in them. After you are done making extract there really isn't much flavor left in them. The item "5 Near Gourmet Grade A/B Bourbon Type Vanilla Beans from Papua New Guinea 67" is in sale since Wednesday, November 15, 2017. This item is in the category "Home & Garden\Food & Beverages\Pantry\Herbs, Spices & Seasonings\Herbs & Spices\Single". The seller is "vanillaproducts" and is located in Doylestown, Pennsylvania.
This item can be shipped worldwide.
Product: Single Spice
Brand: Vanilla Products USA
Spice Type: Vanilla

---