Orig $1099. MEGA PAPUA NEW GUINEA SPIRIT FIGURE, 1900S 48 M. SIMPSON ESTATE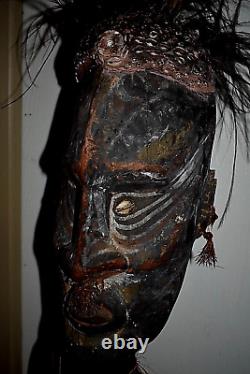 These items came from a Connecticutt collector of high end tribal antiques - MERTON SIMPSON 3- if you are a collector who wants Indonesian tribal art I will be listing all of these unique high end ethnographic items in the coming months. THIS IS AN UNUSUAL AUTHENTIC GUARANTEED PNG RITUAL KNEELING SPIRIT FIGURE, HUGE, HEAVY HARDWOOD, W/STAND, USED IN CEREMONIES, GORGEOUS!!!! NICELY MADE, YEARS OF RITUAL USE-VERY WORN FROM USE- YEARS OF USE AND PATINA, WOW!!
Replacement is accepted for damage item.

---