Papua New Guinea Bark Tapa Cloth Natural Dyes New Britain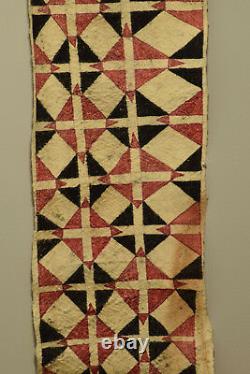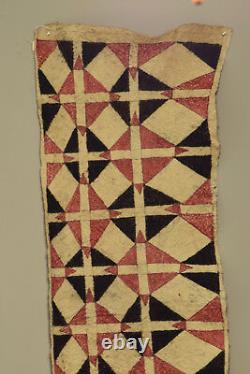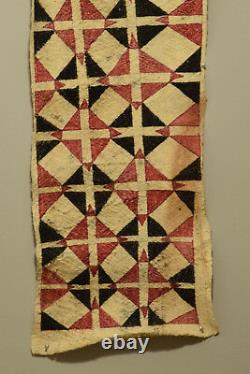 This fabulous small thick piece of Bark Cloth and the patterns are extraordinary. The Bark Cloth comes from the Baining People that live on the Northeastern tip off New Britain in the country of Papua New Guinea. They are confined to the Gazelle Peninsula in a mountainous tropical forest. Their environment is hot and humid with constant equatorial rains throughout the year.
The Baining are unusual among Melanesian cultures in that they create "perishable" art forms in bark cloth, wood, and leaves, which are used only once for a single day or nighttime ceremony, then discarded or destroyed. This artistic tradition serves to articulate, in visible form, the entire sphere of existence of the Baining people.
Their art is presented in dramatic ceremonies representing the complementary daytime/nighttime, male/female, and village/bush aspects of Baining life. Leaves, bark cloth, bamboo, strips of wood are the primary raw materials of the Baining artist. Bark cloth is stretched and sewn over thin bamboo and wooden armatures. Large leaves are used as filler material. Bark cloth is made by a long and laborious process of beating the inner bark of a paper mulberry or breadfruit tree until the fibers separate and spreading this flattened material out into sections of approximately 18 inches wide by five feet long.
The resulting cloth is soaked in a local stream, then laid out flattened on stone stones, and bleached by the sun. After the bark cloth has been cut and sewn over the leaves and the armatures, it is painted with red and black pigments. The red is often derived from chewed tuber roots, or tongue blood mixed with sugarcane water. The black is usually made by scraping the burnt outer husk of a coconut, and mixing it with sugarcane water. A thin stick with a chewed end serves as the artist's brush.
In almost all Baining painting, the white bark cloth serves as white negative space surrounded by red or black pigment. This Bark Cloth was bleached out in the sun and probably used is segments on made for the morning or evening dance mask of the spirit of a tree fork (which holds up their shelters and houses).
This piece of Bark cloth did not get made into a mask. These various patterns are painted on in black and red, with white negative shapes being a common visual characteristic.
Red and black "tear" patterns, negative white "footprint" patterns, the marks made by "caterpillars" or "snakes, " and "spear" patterns can be seen all over the front and back of the cloth that would be used in a mask. This is a rare and extraordinary piece of Bark Cloth, which is museum quality.
It would be lovely framed and hung on a wall in your home. This Bark Cloth is thick and made very well and not fragile.
This would be a wonderful item to add to your collection or home. 77" long 18" wide The Bark Cloth shows some age, but overall in good condition.
AT BACARA WE STAND BEHIND ALL OF OUR MERCHANDISE. YOUR SATISFACTION IS OUR MAIN GOAL, AND WE THANK YOU FOR SHOPPING AT THE WORLD OF BACARA.
This item is in the category "Antiques\Ethnographic\Pacific Islands & Oceania". The seller is "bacara-online" and is located in this country: US. This item can be shipped worldwide.
Style: Pacific Islands & Oceania
Color: Multi-Color
Material: Bark Cloth
Original/Reproduction: Original
Featured Refinements: Tapa Cloth

---