Papua New Guinea Ceremonial Female Small Breast Fertility Figure wit Subut Bird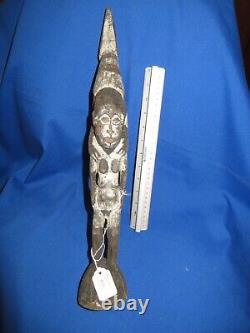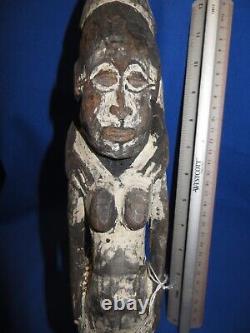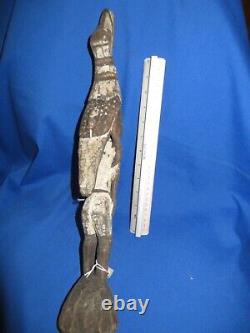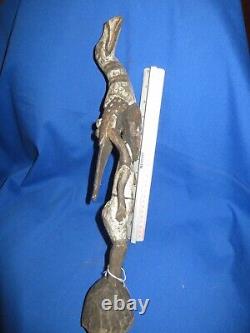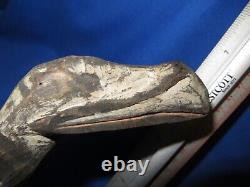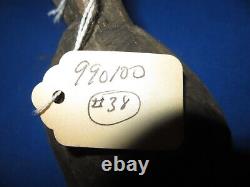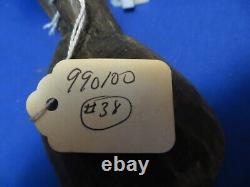 Papua New Guinea Ceremonial Female Small Breast Fertility Figure Hand Carved with Subut Bird Two Sided Subut Bird and Fertility Female. This was made by the Latmul Jungle Tribe of the Sepic River area of Papau New Guinea, one of the most unexplored places on earth.
It is of wood and colored with natural earth pigments. A 12 inch ruler has been placed to show scale. This approximately 120 year carving has the Female Fertility Figure and Subut Bird. From the Iatmul Tribe, Yamok Village, Middle Sepik Region of Papua New Guinea. The Subut bird from their creation story.
Subut is the good Spirit in the Creation Story. In the Iatmul creation myths, a bird called Subut took a leading role by protecting a woman after being raped by a crocodile-man. The woman laid two eggs which the Subut helped tend.
The eggs eventually hatched, one being a human and the other being an evil crocodile-man. Since Subut helped protect the woman and her eggs. The Subut as a protector of women. This was collected in the field, shows age and has discoloration.
A fabulous Subut Bird Statue with all the mythical stories of creation and the Female Fertility Figure. It is in good condition for its age.
The pictures describe this figure as this is the actual figure you will receive. Thank you and Best Regards.

---