Papua New Guinea Creation Story Subut Bird Iatmul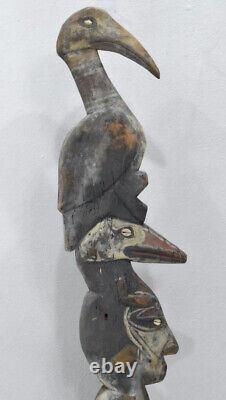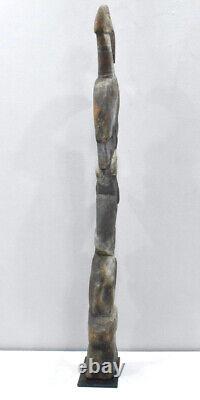 This unique Old Mythical Carved and Painted Wood Sabut Bird is from the Iatmul Tribe, Yamok Village, Middle Sepik Region of Papua New Guinea. The men carve a Suburb bird from their creation story. Sabut is the good Spirit in the Creation Story. In the Iatmul creation myths, a bird called Sabut took a leading role by protecting a woman from being raped by a crocodile-man.
The woman laid two eggs which the Sabut helped tend. The Sabut statue is carved entirely from wood and is hand-painted using traditional paints. This Sabut bird would a wonderful addition to your home or your collection. COMES ON STAND 20th-Century Shows Natural Age and Wear 37.5 Inches Tall 3.5 Inches Wide 7 Inches Deep Top Bird 2.5 Inches Tall 6.5 Inches Wide AT BACARA WE STAND BEHIND ALL OF OUR MERCHANDISE. YOUR SATISFACTION IS OUR MAIN GOAL, AND WE THANK YOU FOR SHOPPING AT BACARA.

---