Papua New Guinea Food Hook Statue Latmul Tribe Food Hook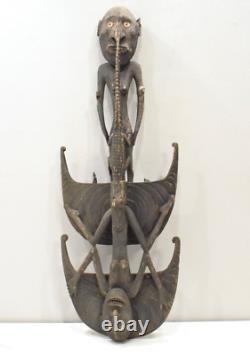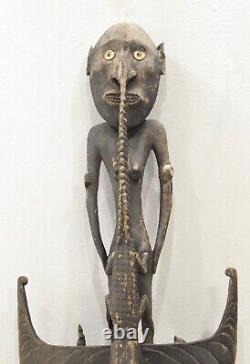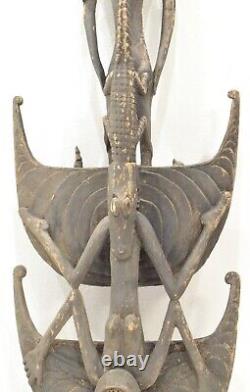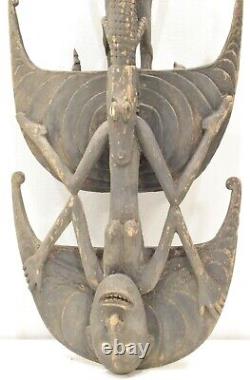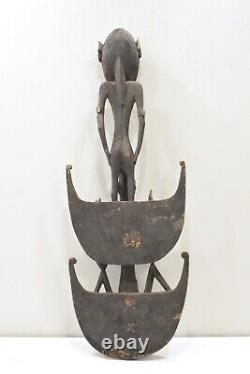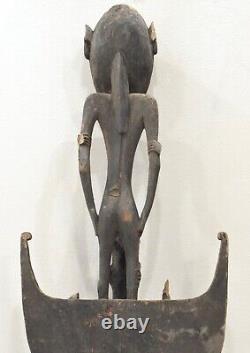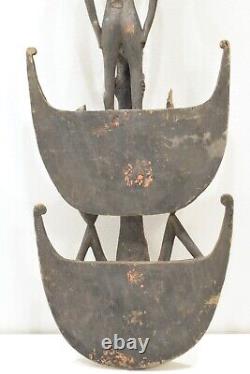 This is a fabulous Old Papua New Guinea Suspension Hook with carved Faces and a Crocodile that goes from Face to Face, from the Latmul People of the Sepik Region, Papua New Guinea. Hooks has both utilitarian and ceremonial functions, and are suspended from the rafters by a cord, and they are used to safeguard food, clothing, and other items, which are placed in baskets or string bags.
These bags are hung from the hook-shaped prongs at the base to keep them out of reach of vermin. Most hooks are adorned with representations of ancestral spirits and totemic animals associated with the owner's clan. In the past, some suspension hooks, especially those representing waken(a sacred ritual), the most powerful supernatural beings, served as sacred images through which the supernatural beings they depicted could be consulted.
This is a wonderful suspension hook, and would be a wonderful addition to your home or collection. Shows age, and Natural Wear. 8 x 5 Top Face. 6 x 3 3/4 Bottom Face. AT BACARA WE STAND BEHIND ALL OF OUR MERCHANDISE.
YOUR SATISFACTION IS OUR MAIN GOAL, AND WE THANK YOU FOR SHOPPING AT BACARA.

---