Papua New Guinea Mask Murik Lakes Spirit Mask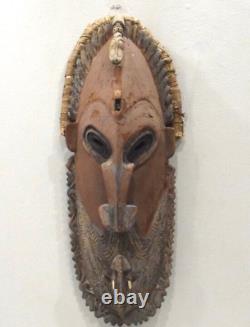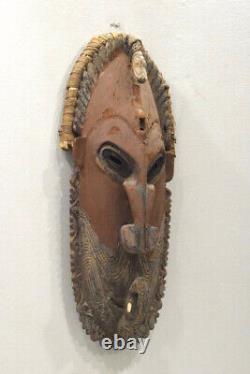 This is a wonderful Vintage Hand Carved Wood Mask from the the Lower Sepik Region, Murik Lakes, Papua New Guinea. Lower Sepik carvings are usually male.
Faces are oval with beaked noses and diagonal eyes and red pigment. Carvers highlight incised geometric detail. Contemporary carvers often add more color and more detail. In Papua New Guinea it is only men who wear masks and they must have been initiated into the cult that produces the mask.
Masks are hidden from women when not in use and are secret. When worn the initiate becomes the spirit the mask represents.
Masks are still being used today in New Guinea and are danced during ceremonial occasions. This fabulous red expressive mask would be a wonderful addition to your collection or home.
Late 20th-Century This mask shows Natural Age and Wear 25.5 Inches Tall 6 Inches Wide 6 Inches Deep AT BACARA WE STAND BEHIND ALL OF OUR MERCHANDISE. YOUR SATISFACTION IS OUR MAIN GOAL, AND WE THANK YOU FOR SHOPPING AT BACARA.

---