Papua New Guinea Small Carved Wood Slit Drum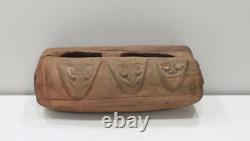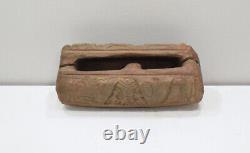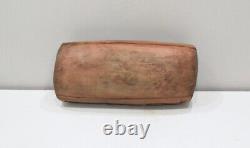 This wonderful small slit gong drum with clan faces comes from Papua New Guinea. Slit-gongs are found throughout the entire Oceanic region and are made from hollowed-out tree trunks and played using a long piece of wood two to four feet long, similar to a baseball bat.
They produce a variety of deep, resonating sounds. The drums are vessels to receive messages from ancestors and sacred spirits, but they serve a practical purpose, too. They are used to communicate important events or to send messages to the community. A wonderful drum to add to your home or collection.
Shows Age and Natural Wear 6 3/4 Inches Tall 16 Inches Long 6 Inches Wide AT BACARA WE STAND BEHIND ALL OF OUR MERCHANDISE. YOUR SATISFACTION IS OUR MAIN GOAL, AND WE THANK YOU FOR SHOPPING AT BACARA.

---