RARE MALE PENIS GOURD HAND PAINTED PHALLOCRYPT SEPIK PAPUA GUINEA Iatmul tribe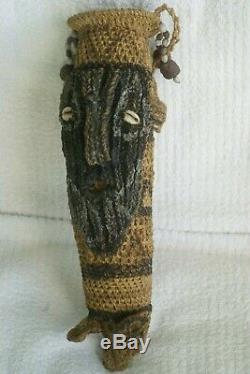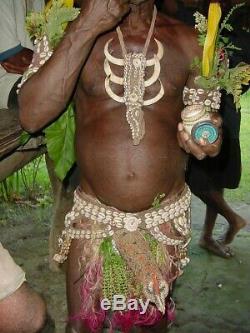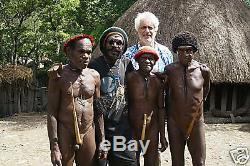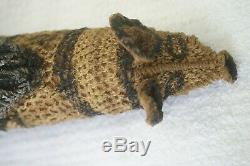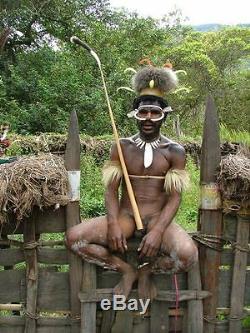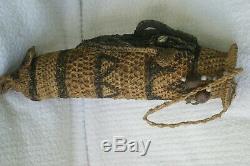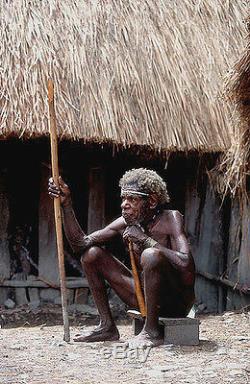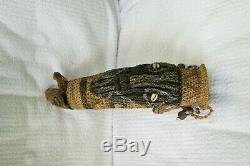 This rare ornate gourd cache-sex, with a border of hand twisted woven bark twine that goes all the way to the other end culminating in a pig or boar head representing wealth and with a large ancestor face in front representing a powerful protective ancestor of the tribe with eyes made of cowrie shells, is hand woven all over with hand twisted bark twine adorned with hand painted geometric motifs obtained from natural pigments and with tassels of seed beads and nuts dangling for effect, it was worn during initiations and ceremonies in the Sepik region of Papua New Guinea, Kamindabit village, Iatmul tribe. PHAL 2 and our very last one. SIZE: 14" long X 4".
Adornment among the people of Papua New Guinea is among the most colorful and spectacular in Oceania, particularly during festivals, where it reflects the strength and pride of the various groups of the region. Such interest in ones body ornamentation had to extend to the penis covers or phallocrypts which styles varied tremendously between regions and tribes, from the plain gourd to the outrageous implement. Besides the traditional gourd penis sheath, they come in many forms and shapes, each one of a kind. We carry a large variety that we collected directly from remote tribes of Irian Jaya and Papua New Guinea.
The koteka, horim, or penis sheath is a phallocrypt or phallocarp traditionally worn by native male inhabitants of some (mainly highland) ethnic groups in Irian Jaya, Indonesia and Papua New Guinea, to cover their genitals. They are normally made from a dried out gourd. Although other species, such as.
They are held in place by a small loop of fiber attached to the base of the koteka and placed around the scrotum. There is a secondary loop placed around the chest or abdomen and attached to the main body of the koteka.
Different tribes wear different styles, and even the gourd types vary considerably from group to group. Penis sheaths, also known as phallocrypts are made from various items depending on what is available locally & are everyday wear for the indigenous peoples in the mountain villages of Papua New Guinea and Irian Jaya. They are created from materials such as gourds or wood or even large shells, or bird beaks and are decorated with clay pigments, shells, dangling seed beads, and intricately woven bark fiber string.
They are of a variety of shapes and sizes. Penis sheaths are held in place in an upright position by a thin string tied around the waist. The larger or heavier ones are supported by bands of cloth.
Woven and hand carved wooden pieces are created for ceremonies when the plain simple gourd sheath will be traded for the fancier one. Sometimes, in such cases, you will encounter one with an ancestor face woven onto the gourd for spiritual protection or a pig for wealth, the later usually at the end of the appendage: Woven gourds are usually made from hand twisted bark fiber twine over a gourd body and decorated with seed beads, feathers (often from the cassowary, varied parrots or bird of paradise) and shells, nassa, baler pieces, cuscus fur etc. The colors, when any, are made from natural pigments.
The length can be a symbol of power and there is great challenge involved in growing the longest gourds. Tending them and stretching them regularly with weights.
Large woven decorated phallocrypts are usually found in Mumeri, Kamindabit, Kararau and Mamen Villages, Iatmul people, Middle Sepik River. The tribes or Irian Jaya, Indonesia and Papua New Guinea have lived in isolation for centuries due to the remoteness of their land and its difficult access.
Their dress code has remained primitive for centuries. Traditionally, the men wear no other clothing apart from a penis sheath made of a cultivated gourd and known locally as a horim and some simple ornamentation such as string hair nets, bird of paradise feathers and necklaces with boar tusks or cowrie shells. In Papua New Guinea the upper canines of the boar are knocked out leaving the lower tusks to grow without being worn down by contact with the upper tusks. The pigs are never killed except for feasts or as part of a special ceremony. The tusks were used in pairs in single necklaces or in large necklaces consisting of 20 or more tusks.
These are people who want nothing to do with the 20th century -- in fact, most of them want nothing to do with the 19th, 15th, 11th or fifth centuries, either. You can think they are traditionalists, maintaining their ancient culture in the face of global homogenization, or you can think they are anachronisms, refusing to accept modern benefits, from housing to nutrition to medicine. Whatever your opinion, these compelling and remarkable beings from another time are now quickly vanishing from the earth.
The item "RARE MALE PENIS GOURD HAND PAINTED PHALLOCRYPT SEPIK PAPUA GUINEA Iatmul tribe" is in sale since Sunday, September 29, 2019. This item is in the category "Collectibles\Cultures & Ethnicities\Pacific Islands".
The seller is "asmatcollection" and is located in Boca Raton, Florida. This item can be shipped worldwide.
natural pigments & tassel of seed beads: Kamindabit village, Iatmul tribe
worn during initiations and ceremonies: sepik river region PNG papua new guinea
rare tribal phallocrypt penis cover: woven hand painted gourd one of a kind
Handmade: Yes
Modified Item: No
Country/Region of Manufacture: Papua New Guinea
Provenance: PAPUA NEW GUINEA SEPIK RIVER
ornate gourd cache-sex unique: hand twisted woven bark twine ancestor & boar

---