Rare Papua New Guinea Vint Iatmul Kambot Female Ancestor & Seabird Wood Carving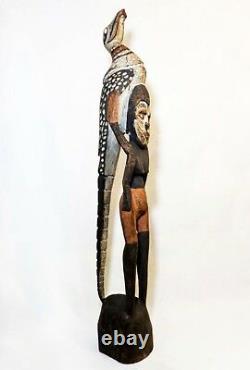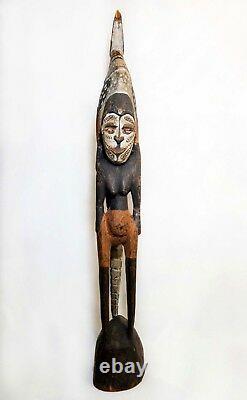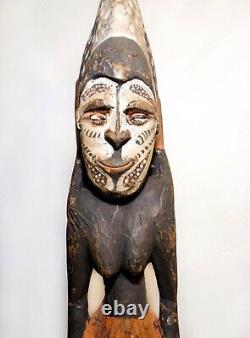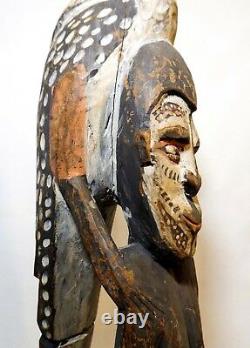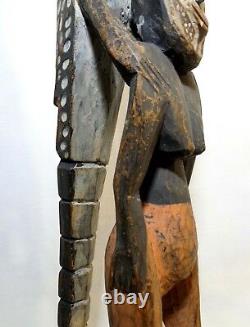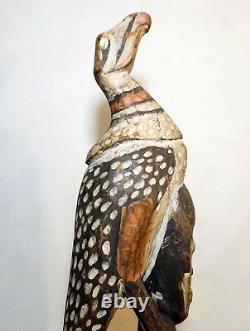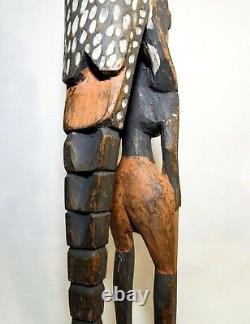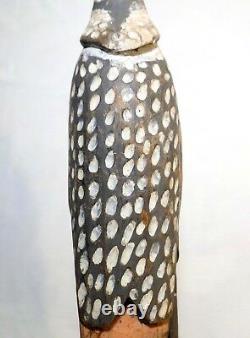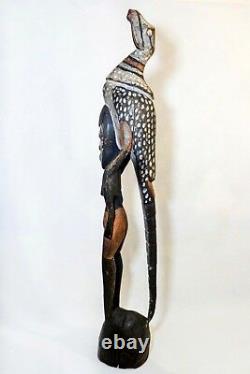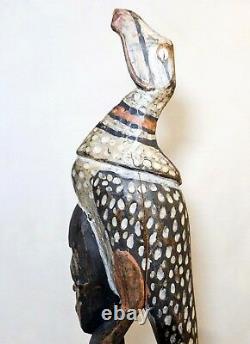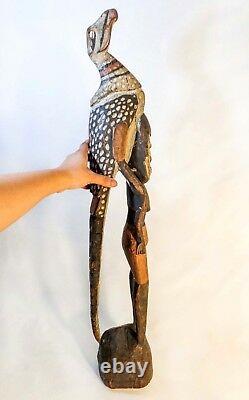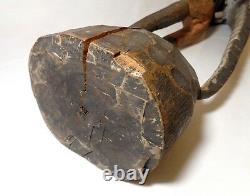 RARE, IMPORTANT MIDDLE SEPIK RIVER, PAPUA NEW GUINEA VINTAGE AUTHENTIC, ORIGINAL CEREMONIAL IATMUL KAMBOT VILLAGE HAND CARVED FEMALE ANCESTO R FIGURE, W/SEA BIRD FIGURATIVE WOOD CARVING. Pacific Islander/Oceanic folk art sculpture. This rare, very large, exquisite tribal wood carving is an authentic, original indigenous work from the Iatmul Kambot Village of Middle Sepik River of Papua New Guinea of Pacific Oceania.
It features a long tailed, spotted seabird standing on the shoulders of an ancestral female figure or painted goddess, her face decorated in colored vegetable paste, as if prepared for an important ceremonial function or tribal ritual. The bird seems to be defending the partially naked, vulnerable woman from harm, shielding her from any potential enemies or maladies and making her feel omnipotent and protected by spiritual forces, otherwise unseen to the naked eye.
The wood carving is exquisite and the vegetable based colors still remain saturated, vivid and vibrant. At 31 inches in height, the wood carving would be considered not only large but monumental. As with many other Middle Sepik River and East Sepik River, Papua New Guinea indigenous, tribal wood carvings, the work is very'plastic' (manipulated) and the carver's mark-making and hand work can be clearly seen and even felt. The wood carved sculpture is immensely physical and vibrates with life force and the transmission of human experience. The entire piece is characteristically decorated with matte, flat finish, vegetable based paint or paste that usually is available in burnt sienna or fawn, chalky charcoal black or matte gray, light yellow ocher and putty white.
This work is from an important collection from an important estate in Massachusetts, where the former owner of the piece acquired it directly from one of his many journeys abroad, where he began to amass his varied and important collection. This work is from that particular collection and hasn't been seen or made available to the public until now.
An outstanding and unusual work by the people of Iatmul Kambot Village of Middle Sepik River in Papua New Guinea. Extraordinary and offered without apologies. Good to Very Good overall vintage condition.
There are some minor superficial scuffs and shallow abrasions to the painted wood surface. None of these would be considered highly noticeable and distracting from the viewing of the entirety of the large figurative wood carving. Only the very end of the bird's beak has experienced some material loss, with the very end of the seabird's beak missing. No attempt has been made to restore or to otherwise conceal this loss of wood occurring in this specific area of the carving.
The piece was acquired by the head of a very important American defense corporation based in Massachusetts, where it sat in his home for decades unseen and untouched, except by those who were part of his family or invited guests in his home. The gentleman had significant resources and traveled the entire world over his lifetime, where he built a significant collection of folk art, ethnographic and indigenous people's sculpture, textiles and ceramic art.
His company is a Fortune 500 firm and is publicly traded on Wall Street. His corporation is one of the largest defense contractors in the United States and procures highly sophisticated defense equipment and weapons' systems for nations the world over. This is a significant piece from a significant home and from a significant American citizen, who headed one of the United States largest and most successful corporations. The piece was taken from the home by a life-long, personal friend of this highly accomplished individual.
The item "RARE PAPUA NEW GUINEA VINT IATMUL KAMBOT FEMALE ANCESTOR & SEABIRD WOOD CARVING" is in sale since Wednesday, December 12, 2018. This item is in the category "Antiques\Ethnographic\Pacific Islands & Oceania". The seller is "modsanctuary" and is located in Milford, New Hampshire. This item can be shipped worldwide.
Dimensions:: 31" Height x 4 ½" Width (widest point/ base) 5 " D
Circa 1930's: Papua New Guinea
Middle Sepik River: Hand-carved
Hand-decorated: Vegetable based colors
Flat, matte finish: 100% original, untouched, 'as-found' cond.

Maker: People from Iatmul Kambot Village
Material: Coastal palm painted wood, polychrome finish
Original/Reproduction: Original
Seashell eyes: Hand decorated
Early to mid-20th century: Indigenous, tribal, figurative wood carving
100% untouched, original vintage cond: In 'as-found,' 'as-encountered' condition
Some minor scuffs & abrasions: Part of bird's lower beak missing
Vegetable based paint (dye pastes): Single board wood construction
Color: Matte charcoal, fawn (burnt sienna) & putty white
Oceanic art: Tribal art from Papua New Guinea

---