Trobriand Wood Lime Spatula with Currency Beads Trobriand Islands Papua New Guinea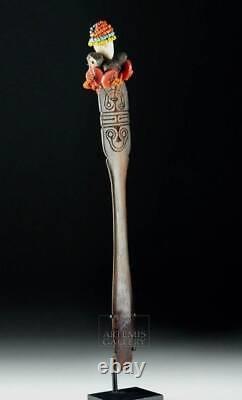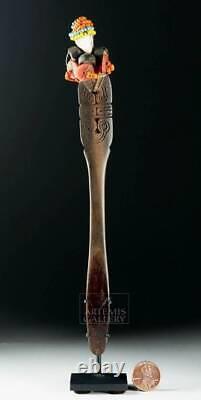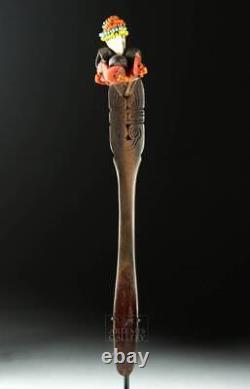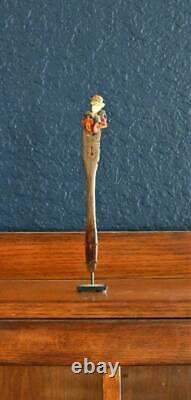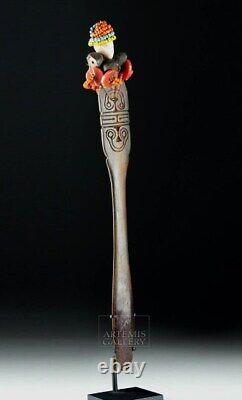 Authentic Oceania, Papua New Guinea, Trobriand Islands, ca. Mid 20th century "gorgeous form" hand-carved wooden spatula with a slender form used for gathering powdered lime from burnt shell and coral remains and preparing it for consumption. The spatula is comprised of an elongated spatula body, a thin neck, and a rectangular handle detailed with a pair of incised abstract parabolic forms. A small strand of currency beads is secured to the top of the handle, in hues of gold, crimson, citrine, espresso, periwinkle, and white, adding an element of color to the otherwise monochromatic tool. Betel chewing has been practiced throughout Indonesia, Oceania, and India for centuries.
Lime powder is an essential ingredient in betel chewing and is combined orally with leaves from a betel-pepper plant and crushed areca nuts to produce an intoxicating mixture. Custom museum-quality display stand included.
Size: 8.375" H (21.3 cm); 9.25" H (23.5 cm) on included custom stand. PLEASE SEE MY OTHER ETSY SHOP ArtTreasureStore FOR MORE GREAT FINDS.
Please send the item back to us with tracking or insured.

---